For current training options visit this page

Pittsburgh Dominatrix . Com

Hello I am Ms Irene Boss, based at the Pittsburgh Pennsylvania Compound

It's a great time to make plans to visit!

I am in Pittsburgh through May 1st and May 13th onwards. Come to Pittsburgh!

I am n

ot in Pittsburgh May 2nd - 12th (To be finalized May 1st)

For same day inquiries (known guests only) a call between 10 am to noon is best for expediencies sake, allowing for a minimum of 3 hours advance notice from the time we speak. (There is occasional same day availability when I am in Pittsburgh to known play partners.) New guests, read this entire page for information on how to make an introduction by email. I am screening for new potential playmates and I do look forward to hearing from you!

I visited Atlanta Georgia March 4th - 8th in 2020 (extended) at the studio of the Opulent Goddess Cheyenne, a long time Lady friend for extended double Domme scenes.

Play is consensual and play partners usually identify as one or more of the following: bondage bottom, spanking enthusiast, fetishist, cross dresser, role play psycho dramatist, masochist or slave, etc. Mark my word that you will get everything you negotiate in a complete role reversal and power exchange, as I do not project a negative attitude. Domination is about control. I am mature, educated and articulate. I am easy to get along with outside of scene play, yet extremely controlling in scene with a sharp wit, a firm hand and a great sense of humor. I am a CMU graduate with post level graduate education: A Dominant Kinky Female perfectionist, seriously Discipline minded with a wink and a sly grin. Dominatrix with a smile at your service. My satisfaction is your goal.

I am particular and strives to create outstanding personalized BDSM encounters. Do join My extensive membership website with 200+ hours of FemDom movies to view to learn about my BDSM Fem Dom interests.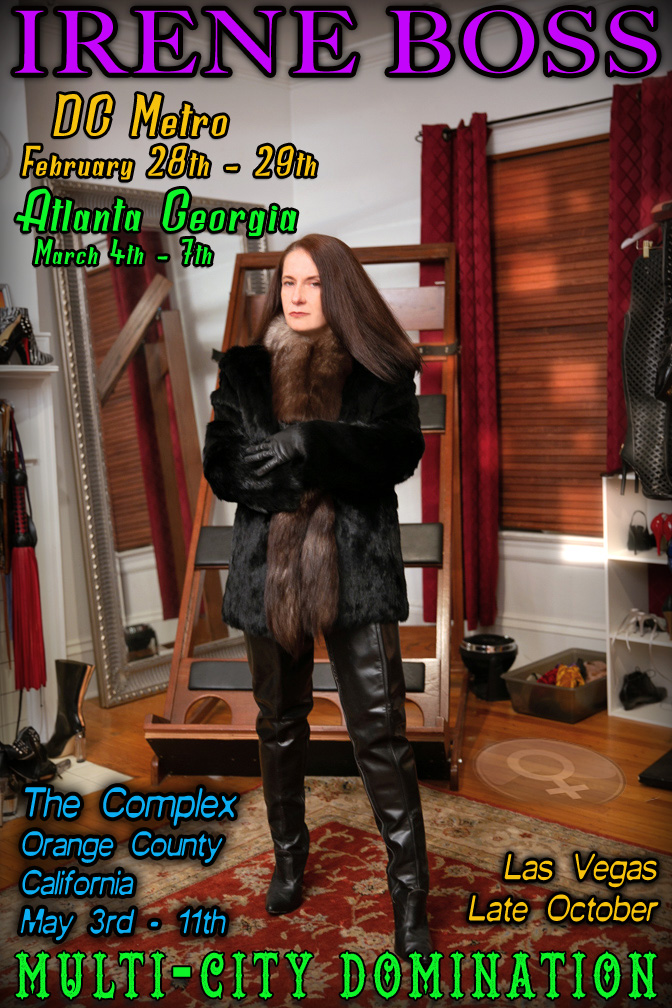 Some of My scene interests include: Erotic and predicament Bondage, Electrics, Whipping, CP/spanking scenarios, Sadism, Sensation play, and Fetish exploration.
Bondage (erotic to punitive): Predicaments atop bondage furniture, suspension, body bags, rope (hemp, jute, cotton and nylon), confinements, straight jackets, bondage mitts, hoods, blindfolds and gags (sensory deprivation), encasements, mummifications, and sensory overload. Bondage with nipple play and/or CBT, and/or electric CBT, and Venus 2000 to name a few items.
Discipline (simple to strict): Corporal scenarios (bamboo, rattan, acrylic, carbonite, martinet or metal), bullwhipping (nylon and leather whips of 12, 18 and 24 plait), signal whipping - 18 plait, flogging, OTK hand spanking, hairbrush spanking, paddling, tawsing and strapping.
Sensation Play: Nipple play, CBT, CP (Corporal) with paddles, slappers, lashes, single tail, bull whips, buggy whips, signal whips, crops, and canes, and custom bondage devices, chastity play, dt, deportment (slave training - postures, commands, and etiquette - also part of D/s).
Fetishism: You may be invited to wear fetish clothing (as a fetish bottom) like corsets or boots (cross dressing). There may be worship of gloves, boots and/or shoes worn by the Mistress. Forced transformation may occur. If you desire to wear wardrobe do make arrangements at least 1 week in advance. Tickle torture may be imposed for tickling sceneries. I may use advanced electro play in medical scenes (always pre negotiated).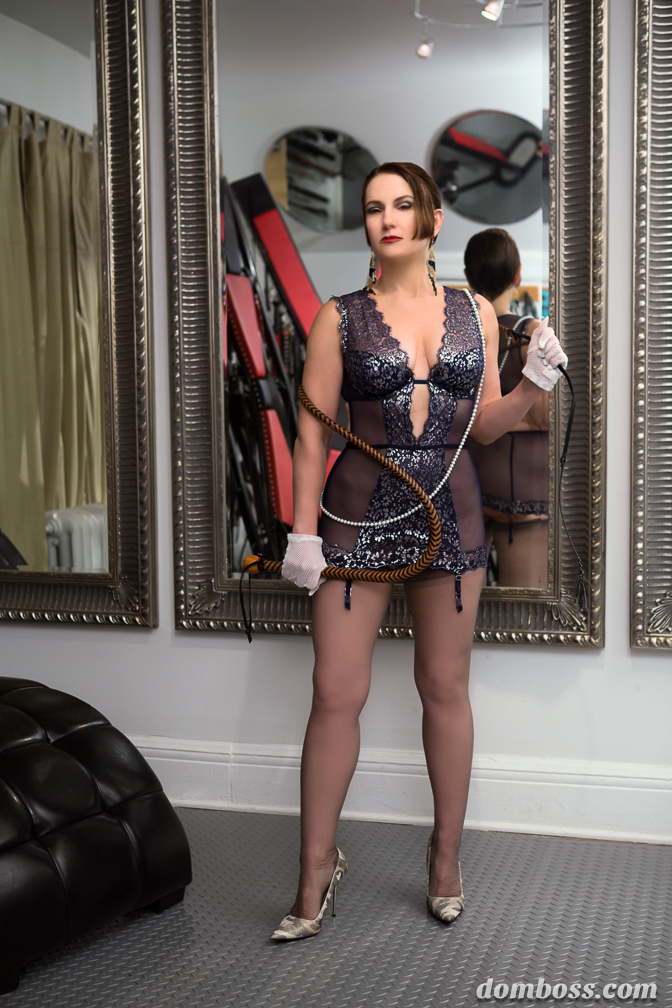 Health Information: Nonsmoking. No exchange of sexual body fluids. Hospital grade disinfectants are used on gear and equipment. I am CPR certified, SSC observant, RACK aware, and consults regularly with scene friendly medical professionals concerning BDSM safety awareness.

I am a complex person who's interests and fantasies overlap and intertwine. Some things are repeated to emphasize this point. As an Internationally acclaimed Domina and BDSM filmmaker I have traveled extensively to learn technique and ideology. I began film production in 1995. 200+ films have been produced by MIB Productions. My involvement in professional FemDomBDSM has included scenes at My discretion, films, select custom videos, public appearances, a message board (now archived in DomBoss.Com members), a membership website and other websites.

 

Limits, Respect and Etiquette:

 

You must be of consenting legal adult age.

I am accepting play partners. Be exceptional, generous, respectful, and possess the ability to clearly communicate about BDSM.

Safety and Responsibility: If you have a condition that places you at high risk, I will consult with scene friendly medical professionals on your behalf before you visit the studio so there will be no dangerous outcome. If you have a cardiac implant (or heart issue) there will be no electrical or breath deprivation play for your safety. Bondage and suspension safety techniques are observed for individuals with low body circulation. In the event of a medical emergency, 911 will be called. Get an OK from your doctor if you are unsure about the effects a BDSM session could have. BDSM may cause the same physical stress as a heavy workout. Having a physical once a year is a good idea.

Health / safety policy: Intense sensations are fully negotiated pre play. Necessary equipment is autoclave sterilized. Chux pads used on equipment, studio is properly cleaned, no outdoor shoes allowed inside.

Limits: The sign of a healthy personality. Limits are respected as activities not engaged in. Being pushed does not mean that limits will be disrespected. Please be aware of how I think about these things.

Privacy: For discretionary reasons, do not give out My contact information. I do not engage in drama and/or gossip. I do not operate a BDSM session or escort referral service. Respect of privacy is greatly appreciated and reciprocal.

 

Please be aware:

Your request must be deemed sincere in order to receive a response. There will be no response if you are vague, do not give a full name, omit your phone number (or give a false one), do not suggest dates and times, misspell or abbreviate words, mention illegal activities, or request incompatible activities.

 

For organizational purposes, email is necessary.

Introduction to Ms Boss in Atlanta - goddesscheyenne@gmail.com

Your first and last name

Your City, State and Country

Your age (you must be a legal adult)

A landline or cellular contact phone number you may be reached at with notice if I deem it necessary

Your FemDom BDSM areas of interest and your limits

Your s

cene-relevant medical issues and any medications you are taking

The word on this page that is listed in all CAPS with an exclamation point
A description of your play style
Your optimal scene length (Generally between 2 to 6 hours)

A few dates and times that work for you during My listed dates.

The most popular current scene length is 4 hours

Preparations instructions and the exact location for the scene will be sent after a deposit has been received and emails have been exchanged discussing the scene (usually 4 more hours prior to play).

I am not seeking filming slaves

Scene Writing - from those who have visited

 

Thank you for taking the time to read this important information. It is appreciated!

 

The World Famous Pittsburgh Compound (My home base) is a FemDom BDSM play space containing 6 opulent theme rooms with custom built equipment to Ms Boss's exacting specifications. There you may expect dedicated play spaces, rarified atmosphere, ambience, incense, mirrors, and sound systems.