The Compound in Pittsburgh Pennsylvania welcomes Mistress Shane September 8th - 10th 2017 for her 3rd visit (last visits 2010 and 2008)

Mistress Shane and I go back to the late 90's. We met through the OWK, and since then We have appeared in many films together. We have played at Her studio near Antwerp Belgium and also at the OWK, but that changed when She visited Pittsburgh! I am very happy to welcome her back. You are welcome to set up an appointment to see her here. Solo as well as double, overlap, extended and overnight appointments are available. Do inquire!

Send email: Mistress Shane at the Pittsburgh Compound September 8th - 10th

Join DomBoss.Com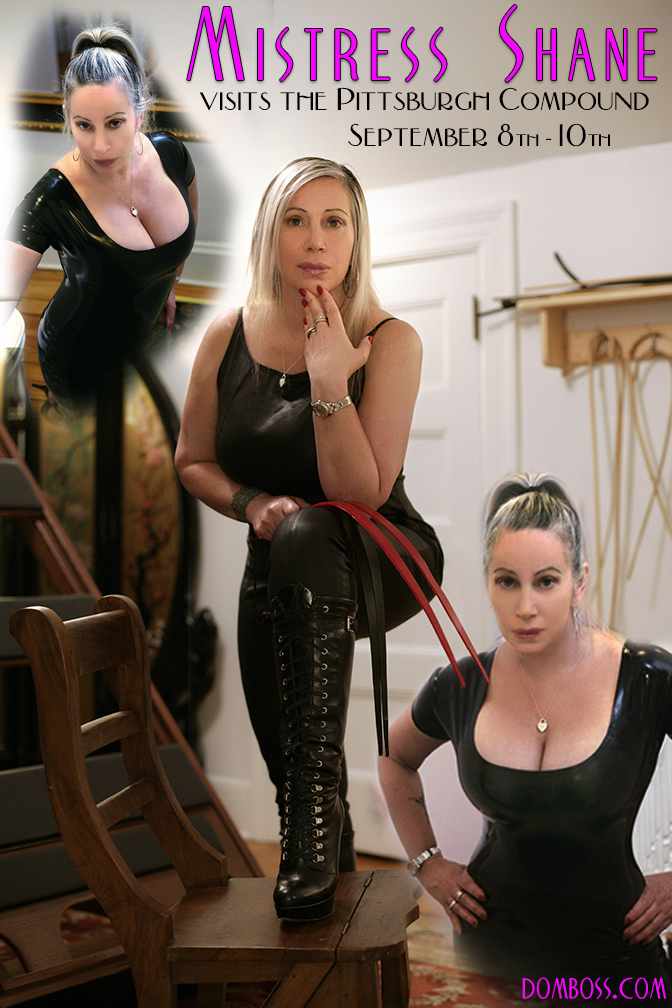 Mistress Shane says:
I am the Goddess, Mistress Shane, lifestyle Domina, owner and manipulator of men's souls. I am both your sweetest dream and your darkest nightmare. I offer slave training.
I believe in Female Superiority
This is not to say that men are at all devoid of worth. I like and respect My male slaves, and believe that men have strengths and abilities that are complementary to those of Women. However, in My opinion, male qualities tend to flourish only when harnessed by a Woman.
I am experienced in all aspects of BDSM
From My childhood in New York, I was fascinated by fetish wear, and discovered My dominance as a teenager. I enjoyed seven years as a professional Mistress in New York where I was very active in the BDSM scene, before moving to Antwerp in 1995, where I enjoy participating in scene events. For Me, learning is a continuous process, and I am ever curious about new techniques and equipment. I believe that I have a good reputation in the scene as a heavy player, and enjoy the opportunity to extend My prowess with very experienced masochists or submissives.
Novices
I also take special delight in initiating sensitive and respectful novices into the glorious reality of Female Domination, and naturally adopt a gentler approach with them. Many return to continue their training, and some go on to become devoted slaves.
Films Mistress Shane has starred in include...
| | |
| --- | --- |
| | The Punishment of slave zero! Today we are going to see a punishment in the sit sling, stretched nipples, stretched balls with an internal spikes sheath, strapping, caning and savage bullwhipping. Don't ever let this be you! The miscreant has been slacking off on dungeon duties and also makes horrible faces when he is played with. For this reason the Ladies have decided to objectify him by making him wear a hood. They cannot see his facial expressions and they do not care! Mistress Shane begins by interrogating him and kicking him in the balls while Ms Boss laughs. Ms Boss then joins in and kicks him on the butt. The Ladies inform him that they are going to cane, whip and stretch their rules into his slave brain. They punish his hands with their boot heels for poor driving (he always gets lost and goes the wrong way). They place him in the sling and his nipples and cock and ball area are placed in a predicament, and hand spank him as a warm up for the convent strap and Arkansas prison strap. He tries to cray mercy no avail. This is a consensual non consensual scene and safewords have no place here! Next is the bench where he is very sternly caned by Mistress Shane using Irene's Dragon implement (also fondly called the golden rod). Ms Boss ties his balls to the bench before taking her turn with a hard rattan cane. He is very sternly verbally chastized by Ms Boss while she savagely canes his rump. Mistress Shane takes another turn before the Bossy Bullwhipping of short nylon bullwhips. Join to view |
| | Multi Orgasmic Punishment Scene 1: Mistress Shane and Domina Irene Boss have a new creature, "slave r", restrained to the punishment bench in her studio Heaven, and they are examining it. It seems quite nervous, yet is extremely horny already. The Ladies decide to test his reflexes by tickling his bare feet and Ms Boss remarks that since he is so hairy he would make a good slave mattress for a cold Belgian evening. Since the Ladies observed his man pussy has been properly man-scaped they make the decision to use it. Ms Boss gives the slave her birthday spanks with a leather paddle. Ms Shane twists his nipples. His cock is as hard as a rock while the Ladies trade places and share the slave. The warm up begins by a solid duo hand spanking. He is made to kiss Ms Boss's glorious ass and feet while Ms Shane paddles him. A double flogging follows and then a strapping. He gets his first whipping from Ms Boss. Of course clothespins are applied to his behind so She has a proper target! Ms Boss whips the clothespins into a central location so Ms Shane can savagely beat them off with a riding crop. Scene 2: The slave is placed on his back to reveal that he has been wearing a spiked sheath punishment bra. He gets an extreme erection and the Ladies discuss a weenie roast. His business is restrained C & B style. The Ladies certainly know their way around a cock! He is placed in a predicament when his balls are tied to his toes. Ms Boss remarks that she is going to beat the tar out of the slave who is mowing the yard (while they filming) next. No one is safe! The Ladies tease the bound slaves cock lasciviously and stop right before the big moment. It is soon discovered that the slave has cum, but the Ladies are not going to stop just because this has happened. Cumming without permission is a serious offense and Ms Boss decides to smack the slave's cock with a riding crop to teach it a lesson! Then the Ladies force the slave to eat it's own goo and it's quite the cumdumpster too! More nipple play and CBT is in order with clips and clamps. The Ladies discuss how dogs behave better than men. He is face sat while they twist and torment his nipples and apply weighted clamps to his balls. Sniff where the men don't go! The slave is handled again until he shoots load #2. Another forced feeding is in order. Ms Boss massages all the cum out while Ms Shane removes the clips. After he eats his meal, Ms Boss canes him 25 times on the balls and then the cock. Scene 3: The slave is restrained in the sling and it's time to suck and be fucked by Mistress cock! These are tremendous strap-on scenes! The 3rd final milking scene is so graphic it must be seen in the director's cut version of this DVD. Ms Boss and Ms Shane with long flowing hair, rubber, feathers, shiny hose, stockings, garter belts and heels. - Join to view |
| | Executrix Punishments! Mistress Shane and Irene Boss say "We Boss, you slavesecretary!" Witness the negotiation this executive had to go through in order to keep his job with the company! CBT and Corporal (spanking, caning, strapping, cropping) and nipple play. These 2 sexy Female Bosses strut their stuff around the room in knee length skirts and elbow length silk shirts with heels and hose. It's domestic and yes it's oh so wrong. Listen to him yell when Irene starts throwing her whip (signal whipping). Don't step out of line at the office because punishment is swift. Take your caning now and kiss my shoes you wimp! - Join to view |
| | Thirsty Shocked Toilet This director's cut DVD contains a scene that is golden. In the medical room at the Compound, Domina Irene Boss is showing Mistress Shane the new equipment, including a slave who has been positioned on the hospital bed for their devious pleasures. The Ladies teases in tight rubber outfits and pantyhose. He is bound and repeatedly shocked with violet wands and many different electrical attachments. The slave is moved to the examination table where his head is enclosed in a plexi glass chair while Irene has her way with him and Mistress Shane zaps away. The final scene features Mistress Shane seated on a potty chair over the slave's face while Irene takes a turn. Mischievous, devious, and just plain mean! - Join to view |
| | Torturing the sausage! Cockcentric! Scene 1 - The slave is restrained to a St. Andrews cross in Mistress Shane's formidable gothic industrial dungeon. He braves electric cbt with an antique violet wand, cock slapping, smearing of spooge on his face, nipple play, and weights by parachute. Shane and Irene tease him mercilessly with their shapely voluptuous shiny pantyhose covered legs. He drips uncontrollably. Shane in short black tight spandex dress and Irene in short rubber mini dress. Both Ladies in sexy high heels! Scene 2 - The slave is bound over the punishment bench for CBT treatments on his balls, sensitive taint and under-cock. Weight work and antique violet wand shocking continue! Scene 3 - The Mistresses make a "deal" with the slave...he is only allowed to come while they shower him if he is willing to be shocked electrically right after his orgasm! - Join to view |
| | Good Vibrations Irene visits Mistress Shane in Antwerp annually. Both Ladies are examining the creature known as Gladys. Irene asks Mistress Shane why she enjoys punishing this particular slave, and Shane responds it's because Gladys has "a greedy pussy". Gladys is tied to a pillory in rope bondage with one leg up for cropping, teasing, cbt and chest flogging. Gladys cummes while being flogged. The Ladies turn Gladys around for more of the same and scratch him too! Gladys orgasms over and over again in his panties. Gladys is restrained face up on the black leather bondage table for nipple torture and chest flogging. He receives a good fingering. The spanking bench is demonstrated. A tandem bare handed warm up spanking is followed by a paddling, good hard whipping, caning, and strapping with a spiked implement. Gladys is filled with a vibrating egg and left alone to squirm and shudder, orgasming anally over and over and over again. Irene Boss and Mistress Shane wear gorgeous rubber ensembles. Shane in black rubber pants, top and corset and Irene in rubber dress with thigh high rubber boots. Join to view |
| | The accidental gardener BDSM / WHIPPING Scene 1: Irene Boss is visiting Mistress Shane in Antwerp Belgium. They are sitting in the courtyard outside Shane's studio on a lovely October evening making conversation while wearing leather corsets, skirts, girdles, heels, boots, and hose. They look divine and you have just entered heaven. Suddenly, they notice that the gardener has done a very poor job maintaining the grounds. Mistress Shane is embarrassed by this. Something must be done! Irene and Shane make a 'tree' out the gardener by commanding him to hold branches between his legs and arms. Then the ladies punish the tree with their whips! The slave is then left to stand in the courtyard all night long bearing the marks from the implements. Scene 2: On the second floor of Mistress Shane's new modern dungeon (one of the loveliest play spaces on earth) the gardener is restrained to a St. Andrew's cross for weighted CBT, and genitorture. Clothespins are whipped from his body. The ladies stretch and grab his cock and balls frequently. Scene 3: The gardener is restrained over a large spanking bench for tandem heavy paddling, flogging, dual caning, ass cropping, and single tail whipping. How much can one slave take? Scene 4: Bonus short "The Punkin' head slaves". Watch Mistress Shane and Irene murder a pumpkin, eggs, and tomatoes, while they talk about you. All the bad qualities about slaves are discussed as they take out their aggressions in a positive way on food. This was filmed for fans of crush fetish, giantess, strong legs and verbal humiliation. Something different Join to view |
| | Inside the masochistic circus - screw the thorns! BDSM / PIERCING / SHOWERS / FUCK MACHINE Starring Irene Boss, Mistress Shane, and slave Kermit. Part one of this series was filmed in October by MIB Productions (BossDVD.Com), on location at the studio of Mistress Shane in Antwerp Belgium. Mistress Shane's slave Kermit is bound and determined to put on a show! We begin our journey with him standing in an archway outside in the courtyard showing off for the 2 Mistresses. You will not believe how many weights he can swing from his numerous genital piercings. The things he does are simply unbelievable! Kermit wears a red lingerie set, chrome collar, and high heels while he is spread in the archway. His nipples are tortured severely. He is cropped, caned on his lower stomach and cock. He begs while sucking a dildo, is tortured with a pinwheel, and manages to have an orgasm as a result of this cruelty. Irene decides to use him as a toilet while he lies on his back on the cold cobblestones, and Mistress Shane watches with amusement. He is unable to swallow Irene's copious shower! In the subterranean dungeon, he is restrained with his back against the prison cell door to endure an intense genital caning from the two sadistic Mistresses. The Ladies discover that the slave has been hiding a large dildo in his ass, and he is punished extremely with many cane stripes. A great variety of corporal implements are used upon him, including signal and bull whips. The slave is forced to fuck a bundle of thorns that the Mistresses have hammered to a pillory and mutilates himself while doing so. The grand finale sees the slave on his hands and knees, drilled by a relentless fucking machine. The Mistresses take turns flogging him and making comments until he finally explodes in a series of combustions. Irene Boss and Mistress Shane wear lingerie, girdles, pantyhose, stockings and high heeled shoes. Extreme Action! Join to view |
| | The Waiters suffering Mistress Shane and Domina Irene Boss want to have a good time in the nightclub Wanda in the OWK, but unfortunately they met up with an incompetent and moreover overly rude waiter. This slovenly coward has NO IDEA what awaits him for such behavior! Yanked from behind the bar, stripped naked and tied to the cross, he becomes the object of the wrath and entertainment for both Ladies. Slaps, beatings with a riding whip, hot wax, torture to his penis and testicles, depilation…and after this suffering the screaming victim is tied to the whipping bench, so that his face could become not only a comfortable place to sit for Ladies, but also a human spittoon. In the end his extended ass is subjected to a cruel whipping by a single tail whip. Clips in members |
| | Bossy teacher at the OWK Filmed at OWK in the schoolroom. Heavy corporal discipline - interrogatory and fraternity style. The first Boss video at OWK! Presenting Domina Irene Boss, Mistress Shane, and the ' 3 stooges ': transfat, jacob and oslo find themselves in a whole lot of trouble when they are caught goofing around by Mistress Shane in this corporal enthusiast's nightmare. Domina Irene Boss comes into the school room at the OWK to find the 3 boys looking quite contrite, but realizes that severe punishment is in order for the very disrespectful picture that someone had drawn on the chalk board representing Her. Over the Knee spanking with a hand and paddle, tawsing over a horse, heavy wooden paddling, punishment lines, caning of the hands and bottom, and smothering are featured in this severe journey into strict classroom discipline. A remarkable scene where all three students are caned by Domina Irene Boss and Mistress Shane will keep you on the edge of your seat! Mistress Shane in long skirt with heels, and Irene Boss in tight corset, military hat and short skirt. Extremely verbal. Not for the novice or faint of heart. Clips in members |